About Us
Newspaper Fun is the brainchild of Ann Mills, a children's writer and former educator, who has been helping children enjoy learning for more than 30 years.
Before she made Newspaper Fun a popular coast-to-coast newspaper feature, Ann produced the award-winning Wee Dolphin children's activity page, which for a decade educated and entertained children in a largely military community in Connecticut.
In 2006, to supplement Newspaper Fun, Ann launched one of the first national reading club web sites –
ReadingClubFun.com
– with the purpose of providing readers and other adults with ideas and tools for encouraging kids to read.
Ann holds both a bachelor's and a master's degree in Education from Westfield State College, with a special emphasis on elementary and middle-grade education. She works from a studio in Connecticut with her husband, Ernie – a communications consultant for corporations around the world – and their lively Shiba Inu, Yoshi. She engages a small group of talented specialists to conduct research, develop graphics and design and manage her web sites.
Email us
for a Free Sample of Newspaper Fun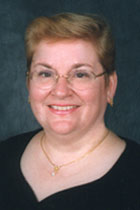 Ann promotes reading in other ways.
Find out how.